Bedford Regeneration
17 05 2018
The Long-Term Masterplan Has Begun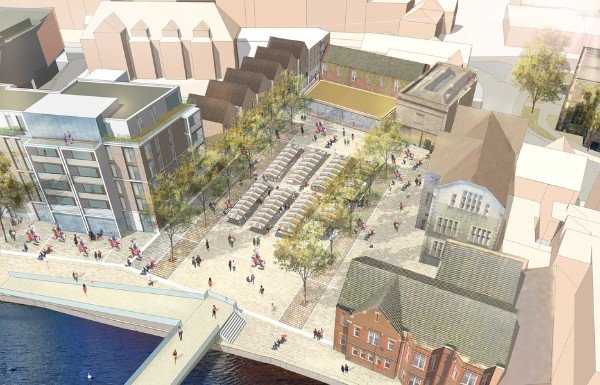 Enhancing the Town & Preparing for the Future
Bedford Borough Council has a long-term masterplan setting out delivery for sites in and around Bedford town centre, which is a key project within the One Public Estate Transforming Bedfordshire programme.
This helps to use public sector and funding to deliver regeneration, new development and savings for central and local government.
Bedford is experiencing a number of exciting changes with new development at Riverside Bedford, and a number of other residential schemes along the river.
The masterplan outlines aspirations and opportunities for sites around the town centre and will help determine the number of new homes, workspaces, supporting shops and other uses that can be included within the town centre to help inform the emerging Local Plan 2035.
There have been nine themes that will help focus investment in the town centre and build consensus about how new development should come forward.
Bedford's Potential
National policy recognises the growth potential of the wider Oxford/Cambridge corridor and the town is well placed to take advantage of this (The Golden Triangle) by creating new jobs & homes to attract people to this fast-growing area.
The town is also well connected to London & airports. A transformational scheme at the station is set in place to improve the experience of arriving as well as raising the profile of Bedford.
Accessible & Attractive
Improving the environment for walkers in the town centre is a key priority to make Bedford accessible for everyone.
Having public realm investment priorities will help attract funds to improve connections into town on key routes.
Celebrate the River Great Ouse
The River Great Ouse is the defining landscape feature in Bedford, with amenity spaces surrounding it.
The masterplan will help to create spaces for events, festivals and activities to promote greater use of the riverside in the town centre.
Affirming the Heritage
The historic character will be protected and enhanced so that it continues to reflect the town's rich history.
Th Council will support the Ministry of Justice's search for a viable use for these buildings to breathe new life into these assets.
An Appropriate Scale
Bedford is a county town with an attractive historic character that can provide an engaging setting for new buildings.
The masterplan will help to set parameters for the scale, massing and materiality of new buildings within sensitive areas of the town centre to ensure that it is keeping with the character of Bedford.
Civic Space
The masterplan will identify a network of spaces with enhanced links to the riverside.
Opportunities to create public spaces as well as improvements toe stations, old bridges and road layouts as well as removing unnecessary duplication and free up space to improve the quality of the street and spaces.
Homes for All
The masterplan has identified a significant number of sites that could deliver a range of new homes within a one-mile radius of the station and town centre which will help support new shops and services for existing residents.
A Place for Business
Bedford has a good number of large employers that have remained in the town centre.
These will be supported and strengthened by identifying new employment spaces, focused in strategic locations, to help retain jobs in the town centre, and capitalise on the Oxford Cambridge arc & links to London St Pancras.
An Adaptable Framework
New developments should be adaptable to cope with an unknown future, to accommodate changes in the property market and technological innovations.
Including creating buildings which can adapt to different uses in the future.
Take a look at our Bedford Development – The House on Mill Street
Source: http://bit.ly/BedfordRegen